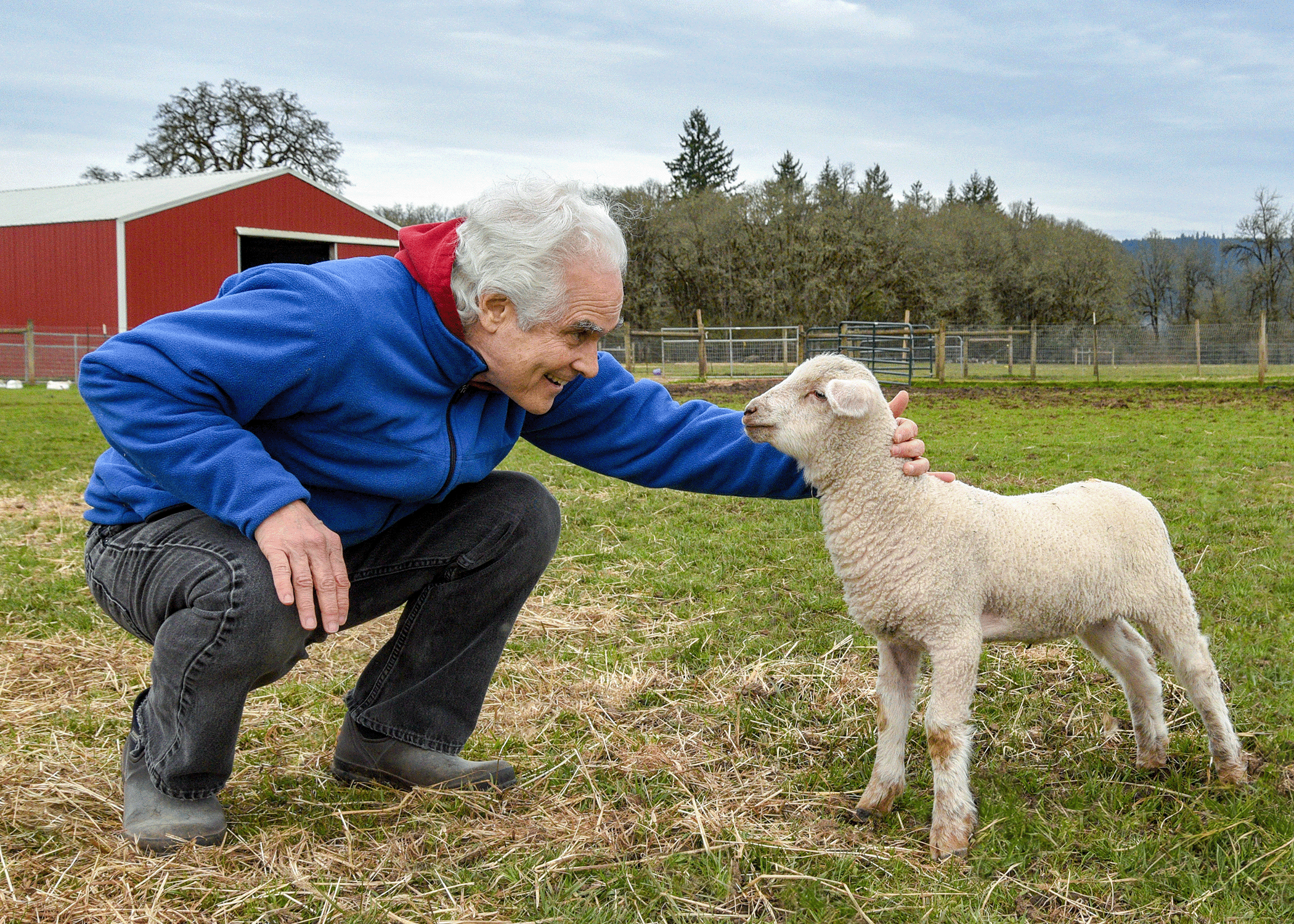 Through these songs, I want to share my experience of the profound beauty, sensitivity, intelligence and friendliness of animals, especially the farm animals people use for food and clothing. I've created this music because I want to do everything I can to make this world a kinder, more compassionate home for animals.
My wife Beth and I went vegan in 2005 after seeing a film that included footage taken inside slaughterhouses and at sanctuaries where rescued animals are able to live their lives in peace and dignity. To continue our education in truth and compassion, in the years since then we have visited many sanctuaries including Animal Place, Farm Sanctuary, Green Acres Farm Sanctuary, Out to Pasture Sanctuary, Peaceful Prairie Animal Sanctuary, Poplar Spring Animal Sanctuary, United Poultry Concerns, Veganville Animal Sanctuary and Wildwood Farm Sanctuary.
I grew up in a musical family. My first guitar was a surprise present from my parents on his 15th birthday and I've been playing and singing ever since. Within a few years, I began writing songs, inspired by Bob Dylan, Pete Seeger, Joan Baez, and Peter, Paul and Mary. For me, songwriting has always been a way to speak from the heart and support causes I believe in.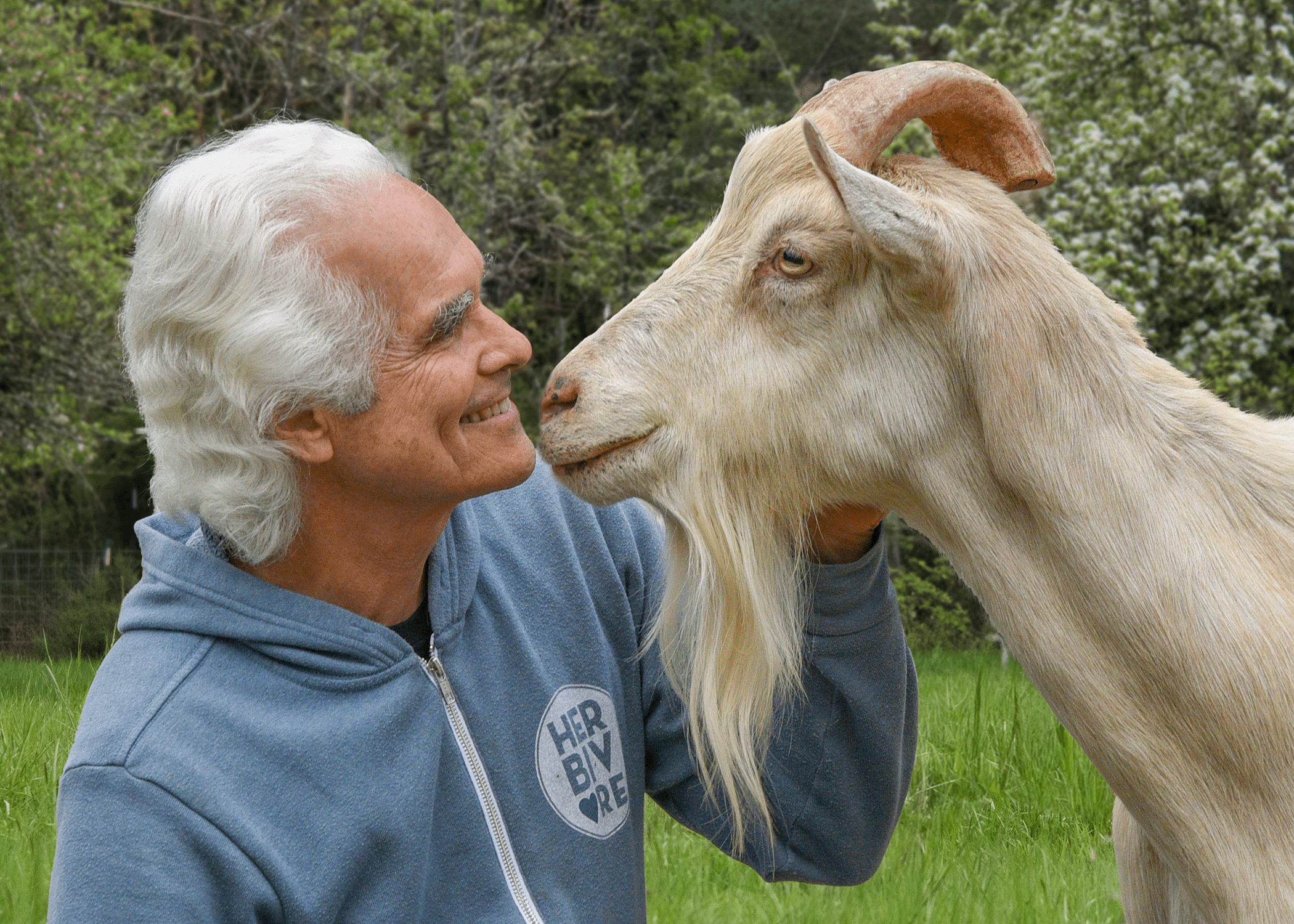 During my college years in Buffalo, I sang and played guitar with the South Happiness Street Society Skiffle Band, which toured upper New York State and Southern Canada. I then moved to California, where I sang and wrote songs for the peace and farmworker movements. I worked as a volunteer ($5 a week plus room and board) with César Chávez and the United Farmworkers Union and was sent by César on a coast-to-coast singing tour, performing at rallies, union halls, houses of worship, folk festivals, on radio and TV, and at house concerts in people's living rooms. Some of my fondest memories from that era involve singing to crowds before speeches by César, Dolores Huerta, David Harris and other movement leaders.
I recorded a benefit record of original music for the United Farmworkers Union, with some of the songs combining English and Spanish. One of those, La Lucha Continuará (The Struggle Goes On) was recorded by Spanish-speaking singers the United States and Chile and later selected by the Smithsonian Institution for inclusion in its Grammy-nominated 5-CD collection, The Best of Broadside: Anthems of the American Underground, alongside songs by my heroes, including Dylan, Seeger, Phil Ochs, Buffy Sainte-Marie, and other leading lights of the folk revival.
In the 2018 short documentary film, Cesar Chavez: Respect for All, I sang We Shall Overcome in English and Spanish in the same room where I sang it decades earlier for (and with) César Chávez and several dozen activist union farmworkers, at what was then the United Farmworkers Union headquarters and is now part of the César Chávez National Monument, designated as such by President Barack Obama in a 2012 ceremony on those hallowed grounds. The film follows young vegan activist Genesis Butler, César's great-grandniece, as she retraces his journey, finding deep inspiration along the way.